Internet Enthusiast, Richard Parsons, invites you to subscribe to his FREE
newsletter where he will report the results of his research project into
the evolution of business and learning.
Subscribe to my newsletter and select a topic
My Library of Investment Books: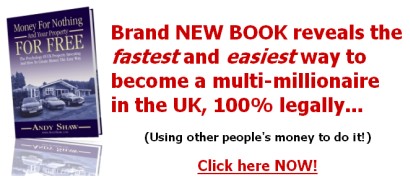 On Wednesday, 28 November 2007 I unexpectedly received in the post
a copy of Andy Shaw's new book. I concluded this was because I'd paid
for an annual subscription to his members' Website when I originally
ordered a copy of his first book!
Click here to access Andy Shaw's NEW website
or Download the audio version of his book,
"Money for Nothing and Your Property for Free"
Originally created in October 2007 and updated on 8-Mar-2010
Copyright © 2007, 2008, 2009, 2010 - All Rights Reserved. Created by Ncreu | Sitemap here